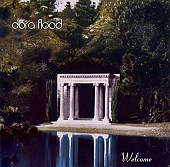 Oh. . .my. . .Godot but I've been waiting for this bit o' balm for quite a spell now. That vast throng of earhungries who sup at
merz's
ample board are quite aware of the master's particular fetish, and it ain't for hats. No, it's quite antipodean to that, and long are the playlists I've compiled of footwear-focused tuneage from his generous blog.
Okay, sorry, this is hazy, but I'm just emerging from the full immersion experience of Frisco gazer/dreampoppers
Dora Flood
, recently highlighted at
Mars Needs Guitars
. After offering two superdupers, merz casually mentions that the band has posted its entire back catalogue over at their
website
. Warning: do not go unless you have, like, several hours or, alternatively, a strong and quick right-click finger. If you go, I'm pretty sure you won't be sorry. I wasn't. Did I sample all 50 songs there? Yes. Did I like every single song? Yes. But, as is my wont at this little cosa mia I call "Powerpopulist," I have posted the ones most pleasant to our particular aural palate. If you, as I, also favor the chaussure-sighting, the psychedelic, or the just generally heavy/floaty musical bubblebathy, you will find more than enough there to soak till you shrivel, float till you flop, and mainly just smile really, really big outside and in. Do I exaggerate? Nnnno.
Dora Flood
Gridlock
mp3
Down Again
mp3
Go in Tonight
mp3
Las Vegas
mp3
Anvil Ill
mp3