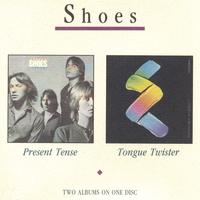 From Zion, Illinois comes exciting news for present and future fans of the quintessential powerpop band,
Shoes
. For me, the
concept
of "powerpop" now antedates the band, but it is from their music that I date my own
conscious
experience of the genre. In my small town, I missed their nationwide debut,
Black Vinyl Shoes
(I made up for it later), but their second lp,
Present Tense
, released in 1979, was and continues to be one of the seminal musical experiences of my life. I really have to hold myself in check here. I love this band, as do many, many others. Read about their career in
Allmusic
, read an interview of band member Jeff Murphy
here
, but mostly listen to the two songs posted below, go sample and buy their music (links below), relisten to your own collection, and prepare for the good news.
I just received an email from Jeff Murphy—the other band members are his brother John Murphy, Gary Klebe, and Skip Meyer—announcing new releases from
Shoes
during the next few weeks. First is a book,
Birth of a Band, The Record Deal and the Making of "Present Tense"
, by Jeff Murphy himself. Actually,
NYMary
broke this story over at PowerPop last month, so props to her. Second will be a Jeff Murphy solo CD called
Cantilever
. Just so you'll know, Jeff sings Shoes song "In My Arms Again," posted below so you'll get a notion of his greats. And third will be—ready?--a new two-disc Shoes release called
Double Exposure
.
Double Exposure
will be made up of the 30 original 8-track demos that got Shoes signed to their major label deal with Elektra and were the basis for their
Present Tense
and
Tongue Twister
albums. To paraphrase the vastly more articulate and concise NYMary: Woo and hoo!
Also in production and due early next year is a
DVD
of seven
Shoes

videos
, along with concert footage and more. Again, as I noted in one of my early posts here,
NYMary posted
four of these cool vids, so go over to PowerPop and check them out.
So to the songs. I apologize that these particular mp3s are not of the highest recording quality. The real deals are available at
Black Vinyl Records
,
iTunes
,
eMusic
,
CD BABY
, etc. You crank your iPod with these and your ears get fragged. But the music itself? Pure.
Shoes
-
Present Tense
In My Arms Again
mp3
Somebody Has What I Had
mp3